Community Terms & Conditions/Privacy Policy


ELIGIBILITY & PROFILES
The VO!CE of the Region online community is open to anyone who is at least 18 years of age and a legal resident of the United States of America. To become eligible to participate in VO!CE of the Region activities and Campos research studies, you must create a profile. Once you have created a profile, you are a member of the VO!CE of the Region online community. Your member account information will be sent to the email address you provide in your profile. Membership denotes an agreement to notify Campos of a change in e-mail address or change in any personal information in order to continue to participate in or be considered for upcoming research studies.
PRIVACY
We will not collect any personal information from you via this web site that you do not volunteer. However, the site uses cookies which automatically record information sent by your browser in our server logs, including your IP address, the pages you visit, and other non-personally identifiable information, which we use to analyze our web traffic and administer our servers. By participating in the VO!CE of the Region online community, you are agreeing to disclose certain personal information to Campos and Marketing Systems Group ("MSG"), our platform provider. The personal information you disclose in your profile is used solely by Campos to recruit for research studies based on client demographic requirements for said studies. MSG has agreed to adhere to our privacy policy and to maintain strict confidentiality of your personal information. Refusal to disclose information to Campos or MSG will mean that you will be unable to participate in or be considered for Campos research studies. We do not sell, share or rent personal information to third parties without your consent, and we will never spam nor sell your email address to third parties, nor attempt to solicit any type of sales from you via your email address. Notifications of new research studies and any relevant announcements about the community itself will be the only communications we will send to the email address you provide. The phone number you provide may be used by our call center to contact you regarding research studies. If you choose to register or submit personally identifiable information to us, you agree to the use of such information in accordance with this privacy policy.
TOKEN REWARDS PROGRAM
VO!CE of the Region's Token Reward Program was created as a gesture of appreciation for online community member participation. Tokens are currently awarded for participation in the following online community polls and forum discussions ("activities") in the following increments, and are subject the community terms and conditions, and any other policies, procedures, rules, and conditions Campos may adopt as becomes necessary.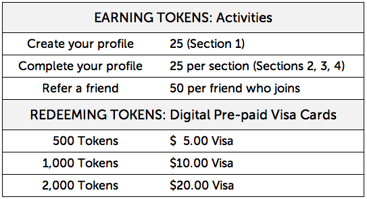 You may redeem Tokens for a reward, providing that your member account is active and in good standing. Redeemed Token rewards are distributed in the form of digital VISA cards ("cards") and will be emailed to the member requesting redemption. The card value is redeemable for goods and services purchased online and/or printed for use at VISA debit acceptance locations. Cash access of any kind is not included. The value of a reward cannot exceed your available Token account balance; however you may redeem an award of lesser value with the difference in Token amounts remaining in your account. Combining Token amounts from separate accounts to redeem awards is prohibited. Redeemed awards and Tokens are not transferrable for cash. Tokens have no cash value. Tokens are not considered to be property, and therefore cannot be sold, transferred, or assigned to another member or person without the permission of Campos. Token redemption requests will be administered at Campos's earliest convenience. This may take up to 4 weeks after redemption request is submitted and received. Campos makes an effort to ensure that Tokens are distributed properly per activity, but you are responsible to ensure that you receive the proper amount of Tokens after each activity. Tokens remain in a member's account until they are redeemed or forfeited. Questions should be emailed to CamposResearch@campos.com. Campos shall not be responsible for cards which have been lost or stolen once they have been delivered to its intended destination. Our card fulfillment vendor, Swift Prepaid Solutions, Inc. ("Swift"), reserves the right to reissue cards which have been lost or stolen, but only up until the card's original expiration date. Swift will assess a separate fee of $10 for any such reissuance. Additionally, within 2 months after the card's expiration, Swift may, at its sole discretion, reissue cards for any reason for an inactivity service fee of $2.95 per month after expiration date deducted from the cardholder's unused balance. Customer Service: US and Canadian Cardholders will have 24/7 /365 web access and a toll-free IVR number to review transaction history and current balance. Live operator assistance will be available during Swift's normal business hours. Cards are the sole property of the issuing bank and are subject to the expiration date on the face of the card. Upon expiration of the card, the card shall be terminated and any net unused monetary amount on the card shall be forfeit. Each card's surrender value is limited to $0.001. Any unused monetary amount on the cards in aggregate ("net residual value" or "nrv") shall be retained by company. Campos and Swift (and their respective employees, agents and representatives) are harmless from and against any and all loss, liability and expense (including court costs and attorneys' fees) relating to third party claims, demands, or actions arising out of or in any way related to the possession or use of cards.
CANCELLATION
All Tokens expire at the moment of cancellation of your account or registration. If the email address you provided upon registering for the community no longer accepts emails from VO!CE of the Region or Campos, your account will be terminated. Campos reserves the right to cancel any account that is inactive, meaning the user has not participated in any activity in one year from the date of last activity. At the time of termination or cancellation of any account, all Tokens are forfeited. Participants may not redeem Tokens on any terminated or cancelled account. If you object to any part of the terms and conditions or become unsatisfied with the online community or Tokens rewards program, your only option is to delete your account. Campos is under no obligation to reinstate any forfeited Tokens.
RIGHTS
Participation in the VO!CE of the Region online community and the Tokens system or any other benefits provided is at the sole discretion of Campos. We reserve the right to terminate the community and/or Token Reward Program or change any terms and conditions and/or participation rules at any time and to any degree with or without notice to you. Changes may include availability of rewards and increasing the threshold to redeem any reward. No vested rights. Campos is not liable to you should we terminate the Token rewards program or the VO!CE of the Region online community. Accrual of Tokens does not entail any vested rights or benefits under the Token rewards program.
OBLIGATIONS
Becoming a member of the VO!CE of the Region online community and participating in activities and the Token rewards program is an agreement to all the rules, regulations, and laws applicable. Every member account is limited to one person and one e-mail address. VO!CE of the Region online community members may only participate if said participation is lawful. If any law, rule, or regulation is broken, including these terms and conditions, your account will be terminated, your ability to participate in any research study or community activity will be revoked, and your Tokens will be forfeited, at the sole discretion of Campos.
FRAUD & ABUSE
Membership in the community serves as an agreement to disclose accurate any information at all times. If information that is provided is untrue, inaccurate, or suspected thereof, or duplicate accounts are created with intent to defraud the company, Campos reserves the right to terminate your account and refuse future access to the online community. Fraud or abuse relating to the Token rewards program, including creating multiple accounts, attempt to earn Tokens illegitimately, redeem awards fraudulently, or tamper with associated web-links, may result in the suspension or termination of your account, as well as the forfeiture of all Tokens. In any instance or suspicion of fraud, abuse, or violation of the terms and conditions, Campos will be the sole determiner. The VO!CE of the Region online community is a platform provided to an individual, not a company nor any other entity.
THIRD-PARTY SITES FRAUD & ABUSE
The site may contain links to other web sites which may or may not be owned or operated by us. We are not responsible for the privacy practices or the content of any of those web sites, including their use of any information that is collected when visitors to our site click through links to those sites or link to the site through those other sites. This privacy policy only addresses our use and disclosure of any information we collect from you. To the extent you disclose personal information on other web sites, even those to which you have linked to through our site, different rules may apply to their use or disclosure of that information to third parties. We do not control the privacy practices of those sites and therefore strongly encourage users to familiarize themselves with the privacy practices and customs of any web site controlled by a third party before disclosing any personal information on that site.
DISCLAIMER
Tokens and services offered by Campos are provided on an "as is" and "as available" basis. Campos makes no warranty that Tokens will meet members' requirements, or that the Token rewards program will be timely, without error, or uninterrupted.
LIABILITY
Campos and affiliates are not liable or responsible for any losses, whether they be incidental, direct, indirect, special, or consequential. Campos is not responsible for losses that result from participation or the inability to participate. In no event will Campos's liability, either jointly or severally, exceed the amount of $100.
ABOUT OUR VO!CE OF THE REGION ONLINE COMMUNITY